Engineering
Marine Engineering You Can Count On
Providing you with the security of knowing there's safe, reliable power at your fingertips is a major principle of our approach. To accomplish this, our engineering department uses the latest technology, including AutoCAD Electric. We work hand-in-hand with builders, project managers, and designers to develop switchgear systems that can handle any load — while also being the most scalable, fully automatic system in the recreational marine electrical industry.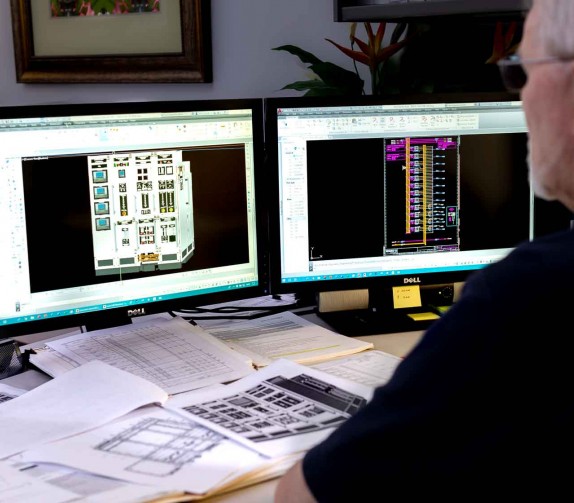 Switchboard Design
Ward's offers switchgear solutions for many system configurations: single, split, and multi-bus AC systems. We use three independent sources of 24VDC system control power. Additionally, we build each of our switchboards on a manual framework. By layering automatic features on top of this foundation, we ensure that an automation fault never disrupts your power supply. We create the cleanest main bus power in the industry by using redundant security modes, harmonic filters, and arc fault protection systems on all switchgear at or above 240VAC.
Software Design

Ward's touchscreen interfaces (TSI) offer a convenient way to view and manage all of your controllers' data and operations. We offer two unique systems: One uses a MarineNav WindowsTM-based integrated computer and touchscreen display, equipped with Schneider software, that is mounted on the door of the switchboard cabinet. The other uses Böning touchscreen equipment and is also mounted on one of the switchboard doors. Both systems come with Deif's configuration utility and TeamViewer remote access software, which allows our engineers to remotely log into your system to complete diagnostic and maintenance work. Our TSIs are interfaces only: All operational logic, alarms, and configuration are handled by Deif processors.



CLASSIFICATION SOCIETY AND
STANDARDS DOCUMENTATION
Ward's Marine Electric can provide drawing submittals and approvals, engineering studies and analyses, witness testing, and any other services
required to achieve regulatory compliance. "Regulatory compliance" includes classification society and flag rules, governmental regulations, and
other applicable statutes. Examples include Lloyd's Register, ABS, DNV, Marshall Islands Flag Rules, U.S. Coast Guard, U.S. Customs, and SOLAS.
Thank You